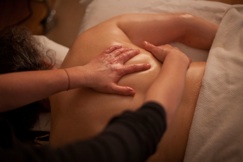 Welcome!
My practice has modified procedures in place right now, due to the pandemic. Maryland residents, please ask me about Distance Healing energy work sessions, if you'd like to work together virtually. Be well and safe out there!
Massage therapy can be a wonderful tool on the road to health and wellbeing, and can be helpful with relaxation, stress relief, pain relief, and body/mind/spirit integration.
Using Deep Tissue and Swedish massage, I will work with you holistically to create a session that assists you with heading in the direction that you're looking to go.
Collaborative communication, to work toward creating a unique session which meets your needs, as well as your comfort during our sessions are always very important to me. All are welcome here.
Photo above by www.williammoree.com